USAG Team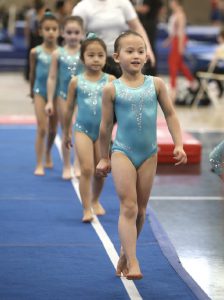 The USAG program is an invitation only competitive team. This program is designed for our female gymnasts who are interested in taking their gymnastics training to the next level. All of our STARZ receive the very best training, optimizing each students skills on the four olympic events. In addition students will be trained in dance and greatly improve their strength, and flexibility. Our STARZ team members accomplishments include NY State, Regional,and National championships. Team member off all levels also compete in various meets throughout the United States. Tuition is paid monthly, please see rates listed below. This is a competitive team program and requires a commitment for the entire Sept-June season. The monthly tuition does not cover meet fees, team attire, or any other incidental expenses involved while being an active member of the STARZ Team.
Important
Parents are required to participate in all team related functions and fundraisers.
More Info
Contact the front desk for workout times and tuition rates.
USAG Meet Schedules
USAG 2023 -2024 Competition Schedule:
October 28 – One and Done – Level 5 Test Out Meet :
*Only for new Level 6 gymnasts who need to test out of Level 5
** Your coach will inform you if your athlete needs to attend
Host : New Image Gymnastics, Brentwood, NY
November 17-19 – NAWGJ NY South Judges Cup:
Level 2-9
Host : Galaxy Gymnastics; Orangeburg, NY
Scratch Date : October 27
December 1-3 – Greater NY Invitational
Scratch Date: October 27
January 19-21 – Winter Flip Fest :
Level 2-9
Host : New Image Gymnastics, Brentwood, NY
Scratch Date : January 5
February 2-4  TRAVEL MEET – Simone Biles Invitational; Houston, TX :
Scratch Date: Dec 5
February 23-25  TRAVEL MEET – Pink Invitational; Philadelphia, PA :
Scratch Date: Nov 10
March 1-3 – Heartland Classic :
Level 2-9
Host : New Image Gymnastics, Brentwood, NY
Scratch Date : January 12
April 12-14 – Springtime Classic :
Level 2-4 only
Host :  Suffolk County Community College; Selden,, NY
Scratch Date: February 26
April 27-28- Mothers' Day Madness :
Level 2-4 only
Location: Hotshots East Gymnastics; Plainview, NY
Scratch Date: March 1
2024 USAG Championship Schedule:
March 22-24 – Level 6-10 NY State Championships – Rochester, NY
April 12-14 – Level 9 Regional Championships – Location TBD
April 19-21 – Level 6/7/8 Regional Championships – Location TBD
May 2-5 – Level 9 Eastern Championships – Location TBD
May 10-12 –  Level 2-4 NY State Championships – Location TBD