IGC Team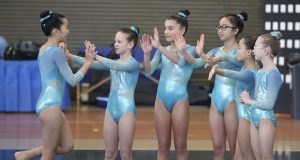 Recreational Competitive Team. Your gymnast will receive detailed instruction on each of the four Olympic events as well as the use of our Tumble Track, trampoline and giant foam pit. Our older gymnasts enjoy the time spent practicing new skills and spending time with good friends. Gymnasts are required to take two or more classes per week and attend competitions. Please call for information regarding schedules and pricing.
IGC 2023 -2024 Competition Schedule:
December 1-3 – Kickoff Classic :
Location : Gym Nest Gymnastics; Medford, NY
Scratch Date : October 27
January 25-28 – Gold Medal Invitational :
Location : Long Island University; Brookville, NY
Scratch Date : November 28
February 23-25 – Harlem Gymnastics Invitational :
Location: Harlem Armory; NYC
Scratch Date : January 19
March 1-3 – Heartland Classic :
Location : New Image Gymnastics, Brentwood, NY
Scratch Date : January 12
April 5-7 – Split Rock Championships :
Location :  Lake Harmony, PA
Scratch Date: February 1
April 12-14 – Springtime Classic :
Host :  Suffolk County Community College; Selden, NY
Scratch Date: February 26
States and Regionals:
Athletes must qualify to attend State Championships by obtaining a specific qualification score DURING ONE OF THE ABOVE MEETS. In order to then attend Regionals, athletes must obtain another qualifying score AT STATES. The qualification scores will be announced at a later date. States and Regional meets cannot be used as one of the three required meets for IGC athletes. All State and Regional Championship entry fees will be charged at a later date due to qualification requirements. Sign up for these meets will also be separate and will happen later during the season.
2024 IGC Championship Schedule:
April 26-28 — IGC NY State Championships — Location TBD
May 17-19 — IGC Regional Championships — Location TBD